The Art Shop presents works from Renowned Local Artists
Acquire a piece of original art from the multitude of renowned local artists that include:
Paul Chester • Edwin Matthews • David Kerr • Kristina Billinger • Pam Buckler • David Hickey • Réné O'Connor • Sandra Sturley and more! Read about them below or contact us for more information.
David Goyette is a visual artist located in Lakefield, Ontario.
His work is influenced primarily by the New York School of abstract expressionism of the 1950s and 1960s, and the later practitioners of lyrical abstraction. He is an admirer of colour field abstraction and cites his influences as Robert Motherwell, Jackson Pollock, Mark Rothko, James Brooks, Jean-Paul Riopelle, Helen Frankenthaler, Hans Hofmann, Theodoros Stamos and Gerhard Richter.
His work focuses on large scale acrylic abstract paintings that celebrate the drama of colour. David typically begins the creative process with a feeling for colour and a basic sense of composition. From that point on, the process is largely free form and it informs David as much as he does it.
Limited edition prints available!
A limited edition Giclee Print on canvas of "Blowing from the West" is now available exclusively at The Art Shop in Lakefield. We are honoured to showcase the remainder of Edwin's collection, which includes originals, artists' proofs and limited edition prints.
As a child, I would sit for hours looking through the Tom Thomson coffee table book in my parent's living room. The iconic pieces that Tom Thomson and The Group of Seven painted in the early 20th century captured the Canadian landscape, unlike any other artists before them. They still to this day remind me of the landscapes where we camped when I was young and where I've returned with my family to enjoy summer vacations. The Group of Seven and Tom Thomson have inspired many artists, including myself, who wish to capture Canada's raw beauty in a bold, colourful and contemporary impressionistic style. 
Pam Buckler needs to go no further than the Kawartha Lakes area to get inspiration for her artwork of lake scenes and local landmarks.
Painting in acrylics, but using the watercolour techniques on paper, Pam specializes in cottage/home renditions and takes commissions. She also likes to use pen and ink, then adding colour for some of her artwork and offers full classes in Peterborough.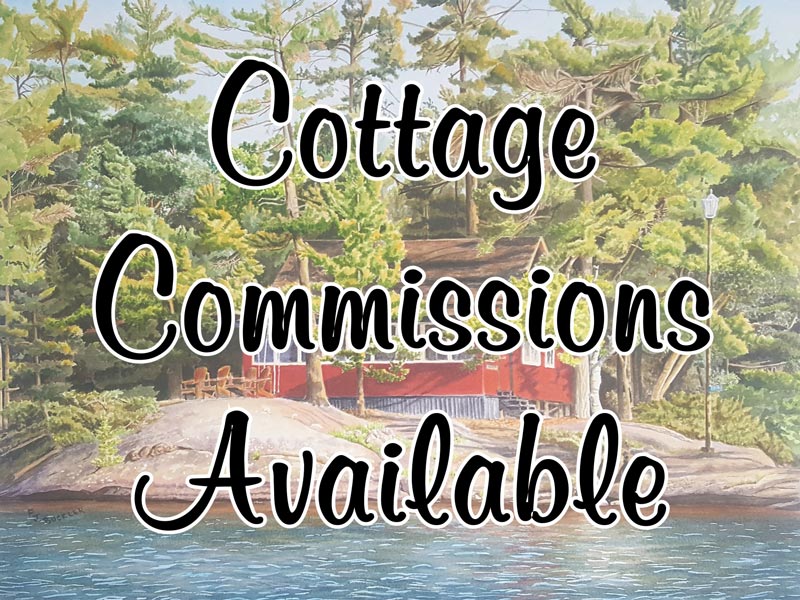 Rene's move to Peterborough County in 1985 prompted the work to shift in subject from urban to rural reflecting the weighty power of nature in line, shadow, and colour. Her COTTAGE LIVING series informs the viewer of the disappearing heritage of rural Ontario. Images of sun-bathed cottages and cedar-strip canoes amidst water lilies and vast open skies became her trademark.
Rene's work is inspired by travel, but her heart is in the Kawarthas and this is reflected in her passionate pursuit daily. Fluidity and luminous colour are her trademarks.
The Art Shop is going avant garde by spicing things up with the introduction of "The Ascenio Collection of Fine Art Prints" an exciting new series by internationally acclaimed artist Henry Asencio, a California contemporary painter.
The Art Shop is proud to present new offerings by internationally acclaimed artists whose works are exhibited and collected worldwide. To view additional images visit www.naturesscene.com