Visit The Art Shop, Peterborough's go-to destination for the latest artistic trends in framing design
Win an Albert Robinson print entitled "Charny",
Giclee Print on canvas
20" x 24"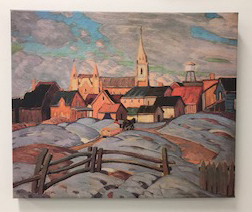 Paintings • Prints • Signature Framing
The Art Shop is located in the heart of downtown Lakefield and is a well-known one-stop shop for all of your art and custom framing needs. We are the Peterborough area's source for local, original art and custom framing.
We offer a fine selection of paintings, prints, signature framing, as well as complimentary design consultations by our experts.
Revive your art with à la mode flair
By simply changing the matting and moulding, you can give new life to your treasured pieces! We can offer you great pieces to add to your home, or give the gift of art to those you love the most!
Come in today to browse the many styles we have in-store to complement your current art.
Why settle for satisfactory framing, when you can have sensational? Contact us to learn more about what we offer.
Keep Edwin's Legacy Alive
The Art Shop and The Mount Community Centre were proud to present a fundraising Art Show in honour of the late legendary artist Edwin Matthews, founder of the Buckhorn Fine Art Festival and Gallery on the Lake. Edwin's remaining timeless works including original paintings, artist proofs and limited edition prints will be offered for viewing and sale.
Invest In A Piece by the Master while making a valued charitable contribution. Contact us today for info.