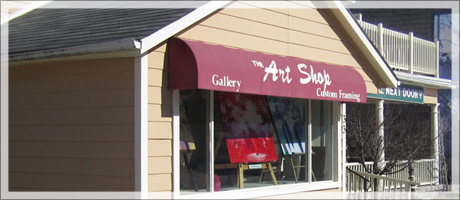 The Art Shop -
Where Framing is an Art
Welcome to The Art Shop gallery and signature custom framing studio. We are centrally located in the picturesque Village of Lakefield in the heart of the Kawarthas. Visit The Art Shop to add to your collection or to frame your existing pieces.
Whether you are looking to update old frames with new, stylish frames suited to your decor, or repair old frames that may be broken or cracked, we are your picture framing professionals who can renew, replace or recommend a solution or professional opinion on your choices.
Check out our art glass – it's a wonderful way to update your precious works to show them at their best. Feel free to contact us for more information.
The Art Shop gallery showroom features a stable of renowned local artists whose original works depict many of the area landmarks and scenic landscapes.
The gallery of renowned local artists includes:
Paul Chester
Kelly Dodge
Edwin Matthews
Pam Buckler
Sandra Sturley
Réné O'Connor
And more!